The Larisa is a state of the art modern yacht built by Feadship, it has great specks and features. It is an amazing motor yachts built in 2013, a 2013 model, it flies the Cayman Flag. The Larisa Yacht is an amazing Yacht, and is quite standard anywhere in the world. It is a portable Yacht with no fly bridge, no cockpit and no helipad. It has an overall length of 189'0" and a beam size of 34'6" (10.50m), it has a maximum draft of 10'8" (3.25m). The Larisa Yacht has a cruise speed of 13 knots, and a cruise speed range of 4500 miles. It has a maximum speed of 15 knots and a Gross Tonnage of 941 Tons. The Larisa possess fuel capacity of 104000 gallons.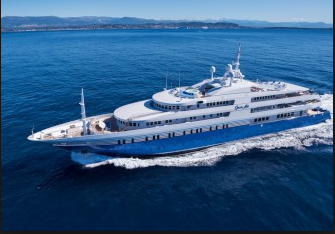 Larisa yacht accommodations are a total of 4 cabins and a total of 8 sleeps, it has a true captain quarters, 7 Crew cabins, 11 crew sleeps. Its hull material is made of steel. The exterior design of the Larisa Yacht was by De Voogt and its interior designs was by Bannenberg and Rowell design. The Engine was manufactured by MTU with model (12v4000 M53R) and it consist of 2 engines. With a Twin screw propulsion Type.
If you are going to buy a yacht, whether it's your first time or you are going for another buy. There are a couple of things that must be considered and it might take a while to make up your mind even after your inspections. The Larisa features speed, beautiful exterior, interior and strength. It is an amazing motor yacht, and is quite beautiful when cruising. If you are trying out your first or just planning on buying another. The engines are known to last and quite a speck if you are buying a Yacht for the first time.